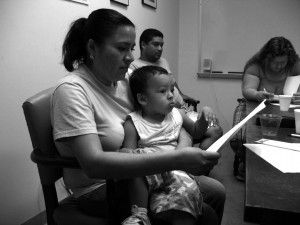 The importance of the Equal Justice Center's work became clear to me when I represented Maria, Yuliana and Sonia in my first pro bono case in 2008.
For two months, these women worked long hours for Maid of Honor, cleaning UT-area apartments. They were paid nothing for their work, as Maid of Honor claimed it had paid a so-called "independent" contractor who was to then pay the workers. This supposed subcontractor, however, had disappeared.
They were paid nothing for their work, as the employerclaimed it had paid a "subcontractor" who then failed to pay the workers.
My clients and their families bore the entire burden of these circumstances despite the company's legal obligation to compensate them. Two of my clients had to move in together as a result of these lost wages.
Initial attempts to settle the dispute outside of court failed. With expert assistance from EJC and the aid of hard-working UT law students, we filed a lawsuit to recover the two months' wages.
That got their attention.
We soon negotiated a settlement for the full wages of all three women. My clients were so grateful that they brought a feast of homemade tamales when we presented the settlement checks. Over tamales and soda, they shared their struggles in this country. One woman spoke of the sorrow of leaving a child behind with her mother so she could find work outside her native country and support her family. It was a bittersweet "celebration," but the experience affirmed the importance of this work.
Many times as a lawyer, I wonder whether my efforts on behalf of a client result in any real "good" for my client — or in the greater sense. But it's hard to argue against the value of helping people who make poverty wages get paid for their work.
It's hard to argue against helping people get paid for their work.