Get Legal Help
| | |
| --- | --- |
| Anywhere | (800) 853-4028 |
| Austin | (512) 474-0007 |
| Dallas | (469) 228-4226 |
| Houston | (800) 853-4028 |
| San Antonio | (210) 308-6222 |
| DACA help | (888) 670-6854 |
News & Events
Nov 12, 2019 - DACA in the Supreme Court, EJC Works to Protect Dreamers
Posted on 11/11/2019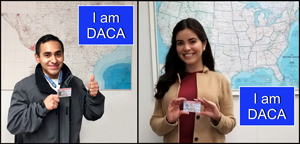 On Nov. 12, 2019, the Supreme Court will hold its crucial hearing on DACA and will decide whether to allow the Trump Administration to terminate the DACA program. The Court's ruling will likely be announced sometime in the first half of 2020.
This Administration has been trying to end DACA since 2017.  However, five lower federal courts have upheld temporary injunctions preventing a complete shutdown of DACA and allowing current DACA recipients to continue seeking two-year renewal certifications.  The Administration is now asking the Supreme Court to lift those injunctions and allow it to fully terminate DACA. 
During this time when the Administration has been trying to kill the DACA program, the Equal Justice Center attorneys and staff have been working more assiduously and urgently than ever to help many hundreds of Dreamers secure renewal of their DACA certification and protection - now while we're sure they can.  We will continue as long as DACA remains in effect.  The need among Dreamers for our legal assistance is greater now than it has ever been.  The EJC and our Dreamer clients need your support to keep this vital legal work going.  This is no time to back off our urgent pace.
Crucially, Dreamers who are able to renew their two-year DACA certifications now will probably keep their DACA protections at least into the next presidential term - even if the Supreme Court allows this Administration to terminate DACA.
The DACA program was initiated in 2012 by President Obama to protect undocumented young people who were brought to the U.S. as children and have grown up in the U.S. as regular Americans ("Dreamers"). For those who qualify DACA provides temporary, 2-year-renewable protection from deportation and temporary authorization to hold jobs and pursue careers.
Here is a link to a preview of the technical legal arguments the Court will be considering Nov 12. 
Here is a link to more commentary and the legal briefs filed in the Court. For lay persons the most interesting of these are the more than 4 dozen amicus curiae (friend of the court) briefs - mostly supporting the Dreamers - filed by cities, counties, and school boards; business groups; colleges and universities; law enforcement officials; legal scholars; legal aid and civil rights groups, and others.
Here is a link to the friend-of-the-court brief filed jointly by the Equal Justice Center and 46 other non-profit legal services organizations, supporting the Dreamers. The Summary of the Argument at pages 2-4 in this friend-of-the-court brief explains how DACA termination will harm the EJC and our Dreamer clients.  
For more than seven years - ever since the beginning of the DACA program - the EJC has been one of Texas' preeminent law firms providing free DACA legal services to thousands of Dreamers.