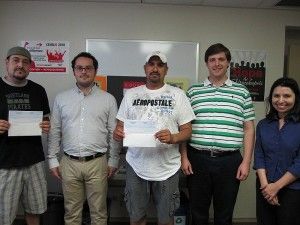 The EJC's San Antonio office recently settled a case involving 14 construction workers who were owed a total of $17,541 after performing drywall, framing, and sheet rock improvements on a new Staybridge Suites Hotel. The property owner, Montex LLC, was represented by a well respected multinational law firm, while the workers were equally well represented by the EJC.
The case highlights the EJC's increasing ability to use the Texas Property Code's Mechanic's Lien statutes to achieve victory for low-wage workers. Acording to Andrés Durá, Construction Worker Fellow for EJC in San Antonio, the property owner was at first slow to come to the bargaining table until foreclosure on the million-dollar property was made imminent. "It's certainly easier to threaten foreclosure of a mechanic's lien on a million dollar property when you know that everyone in your office has the specialized knowledge necessary to ensure a defense-proof lien," said Durá.
The settlement came just as both the San Antonio and Austin EJC offices stepped up efforts to meet the increased needs of construction workers during spring and summer, the industry's busiest time. This case is just one example among many successful cases in which EJC attorneys have used mechanic's lien procedures this year to empower construction workers to recover the wages they have earned.
Settlement payments arrive
EJC's legal team Andrés Durá, John Brey and Yuri Jimenez, and two of their clients.