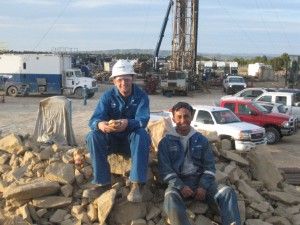 The EJC and Transnational Worker Rights Clinic recently helped 20 Indo­nesian guest workers win a huge vic­tory, in a federal lawsuit to recover unpaid and underpaid wages for oil rig work they performed in the United States for Schlumberger, the world's largest oil field services company.
Schlumberger had used a Texas-based labor contractor, RigStaff, to import the workers from Indonesia under the
H-2B temporary foreign worker program, to work for Schlumberger in New Mexico, Colora­do, Utah, and Wyoming. When the Indonesians arrived in the U.S. they were forced to accept a pay rate that was barely half what they had been promised when they were recruited in Indonesia. Furthermore, over the next 8 months they were also rou­tinely required to work more than 75 hours a week without being paid the overtime wages required by law.
Our attorneys and law students, to­gether with private co-counsel Ed Tud­denham, filed a federal lawsuit against both Schlumberger and Rigstaff, claim­ing hundreds of thousands of dollars in unpaid overtime as well as contract damages for forcing the workers to accept a pay rate lower than they had been promised and lower than the rate the employers had certified to the U.S. government as a condition of obtaining the H-2B visas.
During the course of the litiation, EJC and the workers established an important new legal precedent supporting the rights of transnational migrant workers brought to the U.S. under temporary foreign worker programs: Schlumberger had attempted to effectively quash the workers' lawsuit, by insisting that they had to somehow get themselves back from Indonesia to the U.S. to be questioned in depositions by Schlumberger's attorneys. EJC and the workers mounted a legal argument that this would be wholly unjust and would sabotage such workers' ability to enforce their rights under U.S. law, because the workers had neither the financial means nor the immigration authorization to return to the the U.S. After all, the workers argued, it was Schlumberger and its agents that had gone to Indonesia to recruit the workers, had transported them to the U.S., and had secured the visas that allowed the workers to be in the U.S. during their employment by Schlumberger. The federal judge in the case ruled for the workers on this critical issue, saying that it was fair to require Schlumberger to bear the cost of bringing the lead workers back to the U.S. to testify and/or to require Schlumberger to go to Indonesia to take the depositions of workers the company had recruited there.
After many months of litigation by the workers and their attorneys, Sch­lumberger and Rigstaff finally agreed to settle the workers' lawsuit. While the terms of the settlement must be kept confidential, the workers and the EJC are extremely pleased with the outcome and with this new precedent in securing justice for transnational migrant workers.