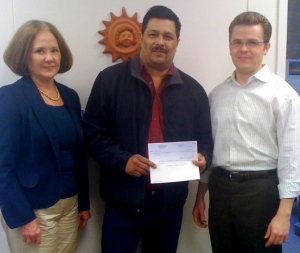 We sometimes have the good fortune of obtaining expert assistance from our friends in the private bar to help us achieve the best results for our clients. An excellent example of this collaboration came about in our rep­resentation of Arturo Posada.
Mr. Posada worked as a carpenter for a local home builder on a new 3,000 + sq. ft. home in Lock­hart, Texas, one of several properties the builder had un­der construction to sell. After Mr. Posada finished the work, the builder paid him only half of what he had promised—not nearly enough to pay Mr. Posada's out-of-pocket ex­penses for materials, or the workers he had hired to complete the project. EJC helped Mr. Posada file a mechanic's lien to secure payment of the remaining $4,800, and ultimately filed a lawsuit to foreclose on the lien. The builder then dragged the matter out for over a year by promising to pay, making partial payment, and then re­neging on the rest. Ultimately, EJC took a judgment against the builder and obtained a court order for the forced sale of the prop­erty, but the builder still refused to respond.
To help us navigate the complex fore­closure sale process, EJC teamed with at­torneys Mary Keeney and Andrea Stover from the firm of Graves, Dougherty, Hearon & Moody. Ms. Keeney and Ms. Stover put their four decades of com­bined experience to work – pro bono – securing jus­tice for Mr. Posada. On the eve of the foreclosure sale, the builder relented and paid Mr. Posada the full amount he was owed, plus interest, court costs, and several thousand dol­lars in attorneys' fees to EJC.
GDHM & EJC help worker get paid
Graves, Dougherty's Mary Keeney and EJC's Aaron Johnson with Mr. Posada and his check for recovered wages
Mr. Posada's case is an example not only of the value of EJC's growing mechanic's lien practice as a powerful legal tool for vulnera­ble construction workers; it is also an example of the value EJC and our clients receive from working alliances with expert private lawyers who share EJC's commitment to fair access to the justice system for working people who can't afford to hire a lawyer.