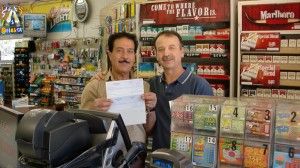 Raslan Taffal, a 70-year old Jordanian immigrant, worked for two years as a clerk at an Austin convenience store where he was paid less than the minimum wage and no overtime pay, while working over 80 hours per week. Located amid the bustling nightlife of Austin's Sixth Street district, the store stayed open daily until after 2 a.m. Taffal recounted how he often complained to his employer—the owner of a variety of local businesses—that the oppressive hours were severely eroding his health.
The owner initially refused to pay the back wages Taffal was due, claiming Taffal was not entitled to the minimum wage and overtime because supposedly Taffal was a "business partner," rather than an employee – even though Taffal had no investment or ownership share in the business, never received any profits, had no business education or training, and hardly spoke a word of English.
EJC filed litigation, spearhead by UT Law student Jonathan Noble, who speaks fluent Arabic and developed both a close rapport with Taffal and a fervent commitment to Taffal's case. After several months of litigation, the case culminated with a formal mediation, followed by further negotiation, and finally a settlement for just over $20,000 in back wages and damages.