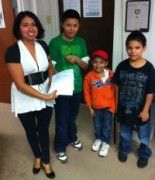 The Equal Justice Center and Transnational Worker Rights Clinic played a pivotal role in the recovery of $15,000 in unpaid wages by 13 women who were former employees of an Austin-based electronic equipment manufacturing company, TLB International. The company failed to pay its factory workers for several weeks of work before suddenly shutting down its operations leaving the workers unemployed. During the weeks leading up to the shutdown, the Company had deceived the women into continuing their work without pay based on a false promise that definite payment was on the way. When the business did close, the workers were still owed thousands of dollars in unpaid wages.
Months before the Company's factory finally shut down, the business had begun having to have financial difficulties and had started falling behind on paying its workers. As it became clear to the owner that the business was going under, the owner made the decision to keep the business in operation as long as possible and to continue employing the factory workers even though he knew he would not be able to properly pay the workers. Throughout this period, the owner repeatedly assured the women that they would get paid their full wages if they would just continue working and help him keep the business operating.
Once the business did shut its doors, leaving the workers with no job and over six weeks of unpaid wages, many of the workers did not think they would ever recover their earnings. However, the group of 13 women contacted the Equal Justice Center to seek legal assistance. Although the company was insolvent and had pledged all its assets to its bank, the EJC filed a lawsuit on behalf of the 13 women naming the company owner and arguing that he was individually responsible for ensuring that the workers at his factory were paid in full for their hours of toil for the company. The owner tried to escape liability by arguing that only the now-insolvent company was responsible for paying the workers their wages. The EJC attorneys demonstrated through the court action how federal law made the owner of the business jointly liable for the workers' wages because of his control over company operations and because his actions and false representations induced the women to continue working without pay. Moreover, the EJC's investigation of the company owner found that this same owner had shut down another similar factory a number of years earlier and on that occasion too had failed to pay those employees for their final weeks of work.
In the end, the EJC and the 13 women successfully recovered all the unpaid wages owed to the women. Having pressed their case with determination throughout, the women said they were happy to get back the wages they had earned, but even happier to have vindicated their dignity by overcoming the deception they have been subjected to.