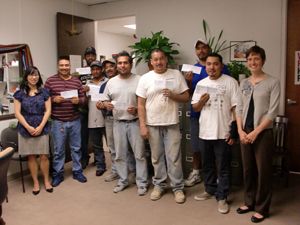 A group of seven Mexican immigrant construction workers sought help from the Equal Justice Center after they were not paid over $15,000 owed to them for several weeks of drywall and painting work on a new Candlewood Suites hotel in Georgetown, Texas.
The Dallas-based general contractor, Design-Build Contractors, which specializes in constructing new hotels, denied any responsibility, blaming its subcontractor, a fly-by-night middleman with no capital and no real business to hold accountable. With the middleman nowhere to be found, law students from the UT Law School Transnational Worker Rights Clinic, supported by Equal Justice Center attorneys, filed mechanic's liens and ultimately brought suit on behalf of all the workers to enforce the liens.
The general contractor tried to fight the claim in court, arguing that traditionally the Texas's mechanic's lien law has only protected businesses, not individual workers. But in a court hearing, the judge explained to the defendant's attorney that this only seems to be true because individual construction workers could never before afford an attorney to represent them until the Equal Justice Center came along. Following that hearing, the general contractor settled with the workers for $19,500, the full amount they were owed, plus attorneys' fees and costs to reimburse the Equal Justice Center.